New Housing, Renovated Social Space Open
The apartment-style Crescent Street Townhouses opened and Vernon Social Center renovations were completed in 2013.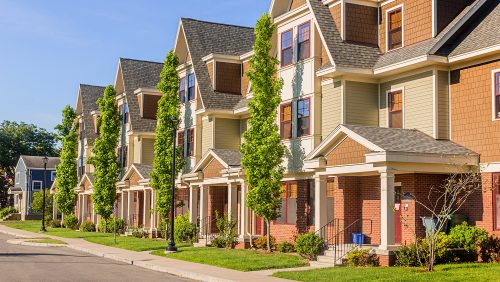 The first phase of the Crescent Street Townhouses—which feature apartment-style living chock-full of amenities for about 200 seniors, juniors, and sophomores, opened in fall 2013. Phase two, with beds for 150 more, opened in spring 2014.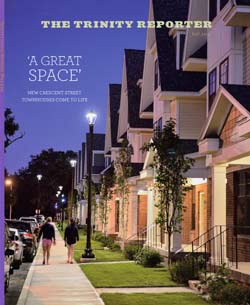 Each three-story suite houses eight or nine students, who share three full bathrooms (one on each floor), a living room with dining space, and a kitchen featuring stainless steel appliances, including a dishwasher, range, microwave, and full-size refrigerator. Each air-conditioned unit also offers wireless Internet access and a washer and dryer.
In addition, the College finished work on renovations to the Vernon Social Center in 2013.
In 2022, the building was renamed the Cornelia Parsons '80 Center, or the "Cornelia Center" for short, in honor of Cornelia "Cornie" Parsons Thornburgh '80, H'22, longtime volunteer and stalwart supporter of the college. Trinity's first female board chair (2014–21), Thornburgh served as a trustee for 17 years and has been a major philanthropist and leader at the college for the past four decades.