Academic and Mentoring program Celebrates 20 years on Campus 
Originally published in The Reporter, fall 2017.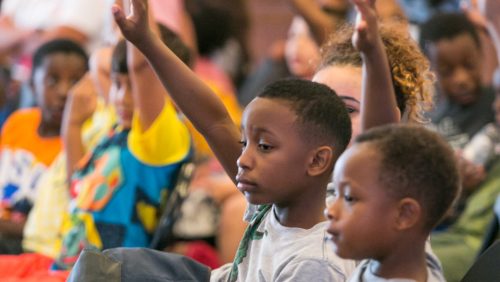 BY MAURA KING SCULLY 
In the mid-1990s, Paul Raether '68, H'14, P'93, '96, '01 had a dream: a tuition-free, academic summer program for underserved children in the Hartford area. More importantly, he had a plan. "To me, the key to breaking the cycle of poverty in tough neighborhoods is that the kids need to be educated," says Raether, who served on Trinity College's Board of Trustees for 25 years, including 12 years as chair. "If they have an opportunity, the vista opens up to them. Education is the key." 
From Raether's dream came Dream Camp, a tuition-free, five-week summer program, funded through philanthropic investments, that couples academic support with mentoring throughout the school year. Given Trinity's commitment to building bridges with the Hartford community, he thought it was ideal for the College to host the camp. To make it happen, he turned to a longtime friend, Michael Rouse, founder of ESF (Education, Sports, and Fun), an organization that provides a variety of camp experiences. "I called Michael and said, 'Look, you run all of these camps. Have you ever done anything like this?' Michael said no, but he would like to. He and I worked out a plan."  
Founded in 1998, Dream Camp is one of Trinity's longest-running community programs benefiting Hartford children and their families. Now in its 20th season, the summer camp and academic-year mentoring program provides a fun, educational, and safe environment for participating students from elementary through high school age. 
Campers — who come from more than 50 Hartford area schools — can join the program at age 6, 7, or 8 and then return every summer through age 16, when they are eligible to apply to serve as mentors in training (MITs). When they turn 17, they can participate in the Young Leaders Program (YLP), keeping them connected to Dream Camp's goals while providing a means for acknowledging high-achieving alumni campers through employment as junior counselors. Among the camp's chief goals are enhancing the out-of-school educational opportunities for Hartford's children, building confidence and academic skills, and improving success in school. In addition to academic offerings, classes and activities include creative and performing arts, health and nutrition, and fitness.   
The curriculum continues to evolve. In 2007, in collaboration with Trinity's Engineering Department and with support from Versa Products, whose president is Jan Larsson '77, P'18, a middle school robotics program was introduced. Through it, campers learn the importance of teamwork as they collaborate to build and program functional robots during the course of the summer. This year, due to the popularity of the robotics curriculum, the Boehringer Ingelheim Cares Foundation started funding an academic-year robotics program to complement summer robotics offerings. Through a partnership with the Athletics Department and a grant from the U.S. Tennis Association, a learn-to-play tennis program was introduced at Trinity's Assaiante Tennis Center.  
As campers enter high school and begin considering options for college, Dream Camp's instruction focuses on issues that include college awareness, admissions, SAT prep, and navigating through college and financial aid applications.  
More than just a summer or academic-year experience, Dream Camp is a community. Many students who apply to the program are struggling academically but have strong support from their families. "We are a partner with the parent or guardian," says Rouse. "When our kids are successful, it's not just Dream Camp. It's a combination of the family and Dream Camp. We provide a platform to make their dreams successful." 
All Dream Campers are invited to participate in the school-year program (or a comparable, Dream Camp-approved program). The Monday through Thursday sessions take place at Trinity (round-trip transportation is provided). Students receive homework help, and there also is an emphasis on character development and mentoring. "Dream Camp is not just watching kids for the summer," says Jared Jackson '16. "It celebrates everybody's achievements and places education at the forefront of our lives." 
That well-nurtured partnership has paid off. According to the Dream Camp Foundation, among the 90 percent of campers who entered the program at age 6, 7, or 8 and returned every summer through high school, 100 percent have graduated from high school and more than 90 percent have gone to college, including six who have attended Trinity. The staff, including teachers and educators from across the country, are deeply committed to the program. The summer staff-to-student ratio is an impressive 1:3, and the academic year staff-to-student ratio is 1:6. Many Trinity students also have benefited by participating as counselors ― they constitute nearly 25 percent of the camp's 75 summer counselors and also provide tutoring and mentoring during the school year. 
During the past 20 years, the camp has supported 4,850 enrollments in the tuition-free program, funded through nearly $11 million in private philanthropy and in-kind contributions from Trinity, including use of classrooms and athletic fields. The camp has attracted significant funding from major donors, including the Bank of America Foundation, Travelers, and the Hartford Foundation for Public Giving.  
"At Bank of America, one of our goals is to see students in low- to moderate-income communities graduate from high school and go on to college," says Dean Andrews '88, senior vice president in the commercial banking group at Bank of America. Supporting Dream Camp is a "win-win," he continues. "Not only are we helping students to succeed, but we're also supporting Trinity and its invaluable role as an academic resource to youth in our community." 
The Hartford Foundation specifically supports Dream Camp's MIT program. "There aren't many summer opportunities for young people ages 12 to 16 and above as they age out of traditional programming," says Judy McBride, the foundation's director of grants and partnership investments. "They really need opportunities for academic enrichment and also the personal growth that needs to happen for young people, whether it's building self-confidence or comfort around being independent and making good decisions. Dream Camp makes sure that young people have an opportunity to think about college and what they want. And there's the added benefit of being on a campus, so they can see what college is like. It becomes part of their DNA that college is attainable." 
Having achieved so much in its first 20 years, Dream Camp is not resting on its laurels. "We've got lots of ideas, like an overnight experience for a week somewhere outside of Hartford. We're continuing to explore opportunities for the future," says Rouse. Raether, who would like to see a sixth week in the summer added, notes, "People say it's changed their lives; looking back over the past two decades, that's what we're most proud of."