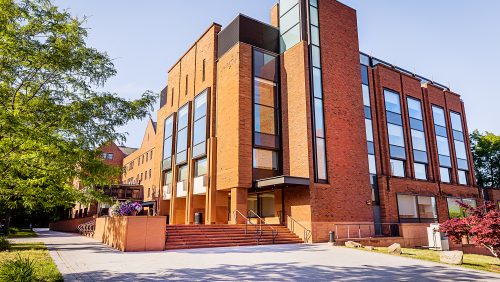 Few things in life are as rewarding as watching an idea develop from concept to completion. For three longtime Trinity administrators, just such an experience culminated in the October 2003 dedication of the Raether Library and Information Technology Center.
It was during a meeting of Henry DePhillips, John Langeland, and Stephen Peterson in the early fall of 1995 that the notion of permanently linking the library with the computing center began to evolve.
"We were discussing various ideas that impact both the computing center and the library," DePhillips remembers, "and a light went on somewhere. We just looked at each other for a moment and then someone said, 'Wouldn't it be great if those two facilities were close to each other? In fact, what if they were merged into one?'" The rest, as the saying goes, is history.
As the computer-driven technological revolution of the 1980s and 1990s advanced information and data management systems to new levels of sophistication, library and information technology professionals everywhere became increasingly aware of overlaps between their respective areas of expertise. Those relationships, while always important to both disciplines, became much more crucial amid advancements in software applications and increasingly widespread use of the Internet. DePhillips (Vernon Krieble Professor of Chemistry and former interim dean of faculty), Langeland (director of information technology), and Peterson (associate academic dean and former college librarian) were among those at Trinity who first recognized the direction in which 21st century college libraries were headed.
For more about "The Libraries of Trinity College, 1824-2003," see pages 14 and 15 of the Winter 2004 edition of The Trinity Reporter.