Unlike traditional college preparatory courses, the Trinity College Digital Summer Writing Institute teaches student-writers to work in digital writing spaces and develop their individual/personal writing process. Working closely with Trinity College writing professors, students develop the unique writing skills that a digital and collaborative world demands.
Program Information:
Dates: July 19-30, 2021
Duration: 10 days
Meetings: Choose from Monday-Friday, 9:00 AM – 12:00 PM
Cost: $1,500/student
Audience:  This course will interest students who are avid readers and writers with a desire to explore digital writing spaces and learn more about the writing process
Method of Instruction: Live on Zoom and utilizes Google Docs for sharing writing and receiving feedback
To Enroll: Trinity Pre-College Programs Enrollment Form
Program Description:
Whether in an academic setting or the workplace, writing for a digital world has become a highly sought after skill. Students will learn to write, revise, edit, and transform documents across various media.  Students will receive individualized feedback on their writing (both drafts and finished products) from college professors, college students who work in the Trinity College Writing Center, and from their peers in the program.  Working in collaboration with other high school students from across the nation, students will hone these portable skills and gain confidence in their writing.
Through small writing workshops (max of 15 students) designed to prepare high school student-writers for writing in a digital world, participants will learn about digital writing through daily discrete assignments designed to encourage students to discover and develop their own unique and productive writing process. We will explore strategies for planning, drafting, and revising documents in a digital age. Some writing projects are completed individually, and others are completed collaboratively. Writers will receive regular feedback from peers and the professor. All participants will meet one-on-one with the professor to receive guided, supportive feedback on their writing. Participants will meet live each day via Zoom, and writing will be shared using Google docs.
Each day begins with a brief writing assignment based on the daily writing goal. As a class we will read or watch a brief article or video and then discuss it in small groups or as a class. With guidance from the professor, participants will practice the writing goal for each day, learning to compose in digital spaces and understanding how rhetoric shapes communication.
Overarching Goals:
Explore and compose texts in a variety of genres and digital modalities
Hone critical thinking and analytical reading skills
Discover and develop your own unique, productive, and reflective writing process
Develop skills and strategies for flexible and efficient revision
Revise writing projects for alternative formats and audiences
Cultivate collaborative writing strategies
Meet the Professors:
Digital badge: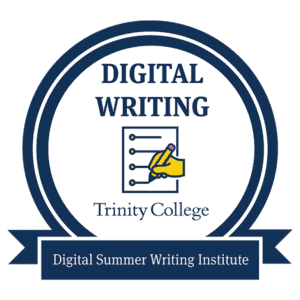 Program completion will be recognized with a digital badge that can be published on social media such as LinkedIn and/or listed in your resume and college applications.