The Office of Student Success understands that family support is crucial for student success. You know your student best, and we're here to answer your questions and support you along the way.
Regardless of background or previous experience, most students face at least a few significant adjustment challenges during their college career. We are dedicated to helping you, and your student, navigate transitions, minimize hassles, and connect you with the solutions needed to make the most of your Trinity College experience. Support is one phone call or email away.
Four years sounds like a lot of time, but it passes in a flash! Targeted support to ensure that your student is making timely progress toward their personal and academic goals is more important than ever. Today's students face a unique set of challenges; even at a small liberal-arts college where individual attention is routine, some students require additional support.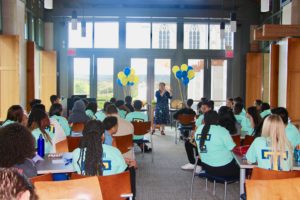 The Office of Student Success is committed to helping students and families navigate change, develop a sense of engagement and belonging, and personalize their Trinity College experience, especially in the first eight weeks. Whether it is addressing a challenge or designing an opportunity that will further enhance their interests, we're here to help make the transition to college a success.
What is student success?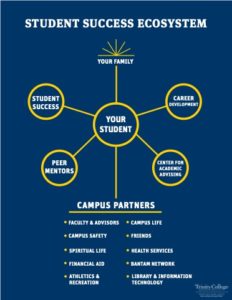 The Office of Student Success is the "one-stop-shop" from which families can access all the wonderful resources available to help students have an incredible Trinity experience. We take a proactive and holistic approach to the college experience to help students design experiences that best reflect their values and interests.
How can I best support my student?
One of the biggest challenges families face is watching their student struggle. Academic, social, or health-related challenges can be concerning. Every challenge is unique and needs to be assessed on an individual basis.
You may often wonder how to help, and knowing when to step in or step back is often a tough call. We support parents and families with easily accessible information and personalized solutions.
How can I ensure that our college investment results in success for my student?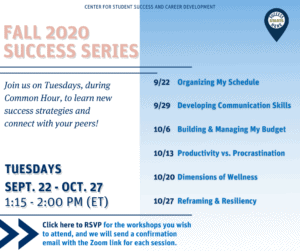 Our motto: "Success is a skill set, not a secret" captures our approach to working with students and families. Because success is a deeply personal and holistic process more than it is a single outcome, we hold workshops and presentations that focus on helping students develop and practice the skills of success:
Self-care
Self-advocacy
Relationship building
Asking for help
To learn more about the support offered by the Office of Student Success, we encourage parents and families to watch the Navigating College Transitions webinar presented by Roberta Rogers, director of Student Success, which also includes a list of questions and answers pertaining to support and resources for students.
Students often feel that something has to be wrong to reach out for support, or that transitions should be easy and they are the only ones struggling. We have centralized information and services to ease transitions to and through college. Reach out with your concerns or questions.
One of the many ways we support your student through their academic journey at Trinity College is via Pre-Orientation. Take a look at the video below to learn how we use Design Thinking at Trinity College.
What will be most invaluable is having a familiar face in the first few weeks of school, and knowing there is someone they [new students] can connect with if they have questions, or just need someone to talk to."

Jazmin Johnson

'21, First-Gen Peer Mentor
GET IN TOUCH
Office of Student Success
We are currently navigating this unprecedented circumstance and are taking necessary measures to ensure the health and well-being of our community. While our team is working remotely, we are still supporting students, parents, and families. We know you are navigating this new normal as well and would like to offer our services, especially at this time. Please let us know how we can support you during this transition. To schedule a virtual appointment with us, visit: http://bit.ly/studentsuccessappointment