Students who learn to navigate transitions are more likely to enjoy an academically enriching and personally satisfying college experience.
College involves a vast nebulae of choices, presenting some pathways that students are not equipped to navigate successfully, on their own. It's not rocket science, but it's sophisticated in its complexity.
Trinity College's Office of Student Success was created to support every student as you strive to design your individual map toward success. We are here to help you navigate your journey, and look forward to connecting with you – wherever you are in your journey – and helping you enjoy your best personalized student experience at Trinity College!
We know that transitions can be challenging, and we also know that you were selected to become part of this community because of your great promise! We're prepared to share the tools, resources, and relationships that, combined with your talents, will set you up for success.
For families, your experience is linked directly to your student's sense of belonging and contentment. You know that there are ups and downs—life happens—and you would like to be actively supportive. You can! Encourage your students to connect, actively and often, so that they find whatever will help them enjoy a successful college journey.
The Office of Student Success has built a strong team of professional staff, institutional partnerships, and peer mentors who are ready to work with students. There may be a particular issue for which a student seeks help or there may be no problem, at all. Many students connect with us simply because we're offering a fun trek or valuable workshop or just because they're looking to make more campus connections!
We love working with students, and we want to help you better express your passions, find 'your people,' and explore area resources, both on and off-campus. We can help you find the right club or service opportunity or meet peers with similar interests or who want to explore the local towns. We are happy to connect with you from the time you arrive on campus until the time that you graduate. That's our business, so let us help!
Our door is open, every weekday, and there's always coffee or tea on for our guests! (From the Keurig, that is.) Drop by to say 'hello' and learn more about our programs and services.
Coming together is a beginning.
Keeping together is progress.
Working together is success.
–Henry Ford
Meet the Student Success Team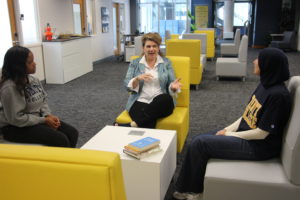 Roberta Rogers' career centers on identifying and interceding on behalf of observed trends and helping people effectively navigate transitions. Roberta has developed and implemented robust orientation and transition, student leadership, and peer mentor training programs and implemented a strategic plan for Student Success. She mentors and supervises both professional and student staff and though she supports all students and families at Trinity, Roberta is steeped in experience with transfer, first-generation, post-traditional, student-athletes, and high-achieving students. As Trinity College's Director of Student Success, Roberta will be the architect of Trinity's retention strategy, collaborating with key divisions to continue the cultivation of a data-informed retention eco-system. Roberta is deeply connected to the mission and power of higher education and is not only a Trinity alum (Bachelor's and Master's), but she is also a 'legacy' (Roberta's mother graduated among the first class of women at Trinity '73) and is the parent of a recently graduated student-athlete (class of '18). #ProudBantFam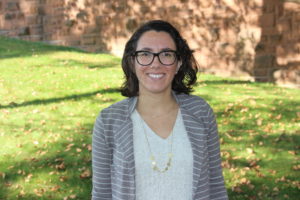 Rebecca DiSciacca's career focuses on meeting students where they are, listening to their experiences helping to make connections and increase insight about their growth as a person. Throughout her fourteen years as an independent school educator, Rebecca taught life, earth and environmental science, outdoor education and human-growth and development. She enjoys planning programs with and for students based on their needs. Prior to joining Student Success, Rebecca taught yoga and led wilderness trips with Trinity students. Throughout this experience, she was whole-heartedly impressed by the quality of the thinking and reflection communicated in conversation. Rebecca received a Bachelor of Arts from Skidmore College, majoring in environmental studies, and a Master of Arts in Liberal Studies from Wesleyan University. She is thrilled to be part of the Trinity College community.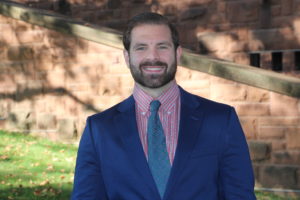 Chris Chipello's career concentrates on mentoring and supporting students in finding fulfillment, engagement, and a sense of belonging at Trinity. Through one-on-one coaching sessions and event programing, he connects with students to build authentic relationships and shared experiences to help students in navigating transition. Chris has prior experience in athletics. While receiving his Bachelors and Masters from Nichols College in Dudley, MA, he was a four-year member of the Men's Lacrosse team, and became an Assistant Coach, following his graduation. He currently coaches and serves on the Board of Directors for Newington Youth Lacrosse. Chris is excited to be a part of Student Success at Trinity College.
​The Office of Student Success has been an amazing support network for me. Roberta Rogers, specifically, has done an amazing job with reminding me that I am prepared for leadership positions and has guided me to opportunities that I may have never considered before coming to Trinity. With the ongoing support of the Student Success team, I am able to converse with students and support them as well."

Tiana Starks

'21, Lead Service Ambassador
GET IN TOUCH
Office of Student Success
Office of Student Success
Center for Student Success and Career Development
Admissions Building, First Floor
Spring 2020 Student Success Office Hours:
MONDAY
Roberta Rogers 1:00–3:00pm*
TUESDAY
Chris Chipello 4:00–6:00pm
Rebecca DiSciacca 1:00–3:00pm*
WEDNESDAY
Chris Chipello 11:00am–1:00pm (Peter B's)
Rebecca DiSciacca 2:30–4:30pm*
THURSDAY
Rebecca DiSciacca 4:30–5:30pm*
*Meet in CSS&CD, unless noted, above.
Staff available by appointment, as well!