Faculty and staff are key partners in student success at Trinity College.

Research on student success demonstrates that student-faculty interactions, inside and outside of the classroom, can make the difference as to whether a student persists in and achieves their academic goals.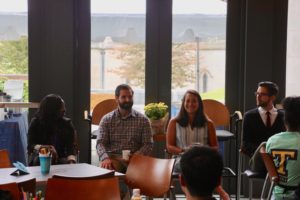 That's why the Office of Student Success invites faculty members to connect with us and reaches out in partnership to shore up the network of support for our students. Whether it's helping us identify a student who is thinking about transferring away from Trinity, to connecting students to campus resources that improve their Trinity experience, we are here to help.
Students navigating transitions need support, and together, we can make our community even stronger.
Please, let's get in touch.
Finding Your Academic Path
GET IN TOUCH
Office of Student Success
Office of Student Success
Center for Student Success and Career Development
Admissions Building, First Floor
Spring 2020 Student Success Office Hours:
MONDAY
Roberta Rogers 1:00–3:00pm*
TUESDAY
Chris Chipello 4:00–6:00pm
Rebecca DiSciacca 1:00–3:00pm*
WEDNESDAY
Chris Chipello 11:00am–1:00pm (Peter B's)
Rebecca DiSciacca 2:30–4:30pm*
THURSDAY
Rebecca DiSciacca 4:30–5:30pm*
*Meet in CSS&CD, unless noted, above.
Staff available by appointment, as well!