Interim College Chaplain and Interim Co-Director of Spiritual and Religious Life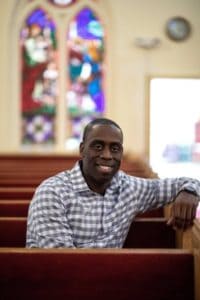 The Rev. Y. Trevor Beauford is a product of the Florence County public schools in South Carolina, holds a Bachelor of Arts in History from Winthrop University in Rock Hill S.C., and a Master's of Divinity from the Howard University School of Divinity. He has served Union Baptist Church in Hartford, Connecticut, since 2017 and been part of the team at Trinity since 2019, working especially with students involved in the Men of Color Alliance, Faith Inspired Students at Trinity, and community service projects in Hartford.
Chaplain Beauford served on the Pastoral Leadership team at the Friendship Missionary Baptist Church in Charlotte, N.C. under the leadership of Dr. Clifford A. Jones, Sr. from 2005-2016. His division served over 400 children, youth, college students, young adults and parents with spiritual, educational, and recreational ministries. Additionally, he served as Friendship's liaison to CMS Schools. Chaplain Beauford is a former National Director for Youth and Young Adult Ministries for the American Baptist Churches and Team leader for the Lott Carey Baptist Convention Youth Department.  While living in Charlotte, Chaplain Beauford was a member of the Board of Directors of Crisis Assistance Ministries, Freedom School Partners, Leadership Charlotte and Communities in Schools as well as an active mentor and volunteer in several CMS Schools. He fulfills his passion for mentoring by serving as chairperson for the Alpha Phi Alpha Beautillion Program.
As a former school teacher, educational consultant, activist, and counselor, Chaplain Beauford believes "The Gospel of Jesus Christ motivates us to not only be spiritually empowered but civically minded. We are called and commissioned to preach the liberation of Jesus Christ for the mind, body, and spirit. There can be no gospel, without social justice; there can be no effective social justice, without the Gospel."
Contact: yancey.beauford@trincoll.edu or call 860-297-2013