Hillel Assistant Director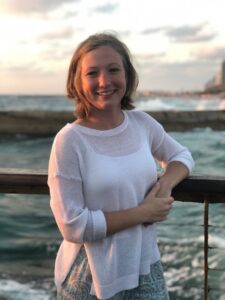 Leah Staffin is a community builder and Jewish educator from Teaneck, New Jersey. Her dedication to social change and experiential education guided her in the creation of her interdisciplinary major, Social Justice Studies, at Brandeis University. After graduation in 2015, Leah served with Repair the World: Philadelphia as an Education Justice Fellow.
Following her time at Repair the World, Leah led the K-12 youth community and several religious school classes as Director of Youth Engagement at Temple Shir Tikva in Wayland, MA. Continuing as an advisor and teacher for young Jewish leaders, Leah served as the Springboard Ezra Jewish Education Fellow and Program and Engagement Associate at Hillel at Washington University in St. Louis.
As Assistant Director at Trinity Hillel, Leah advises the Hillel student leadership board, leads musical Shabbat services, fosters relationships with campus partners, and empowers students to find and share ways Judaism is most meaningful to them. She is always happy to hear from students, new and old, about their ideas for programming with Hillel, and how to help them have the best college experience, so please do reach out if you're a student reading this and would like to connect.
Email: leah.staffin@trincoll.edu, Phone: (860) 297-2280