Back to News
Visit from German Delegation Celebrates 30 Years of Baden-Württemberg Exchange Program
Academics
posted
by Andrew J. Concatelli
Trinity College recently hosted a delegation of government and university officials from Germany as part of a celebration recognizing 30 years of the Baden-Württemberg–Connecticut Partnership. The relationship between the state of Connecticut and the German state of Baden-Württemberg has grown to include a faculty mobility program and the Human Rights Research Consortium, in addition to a student exchange program.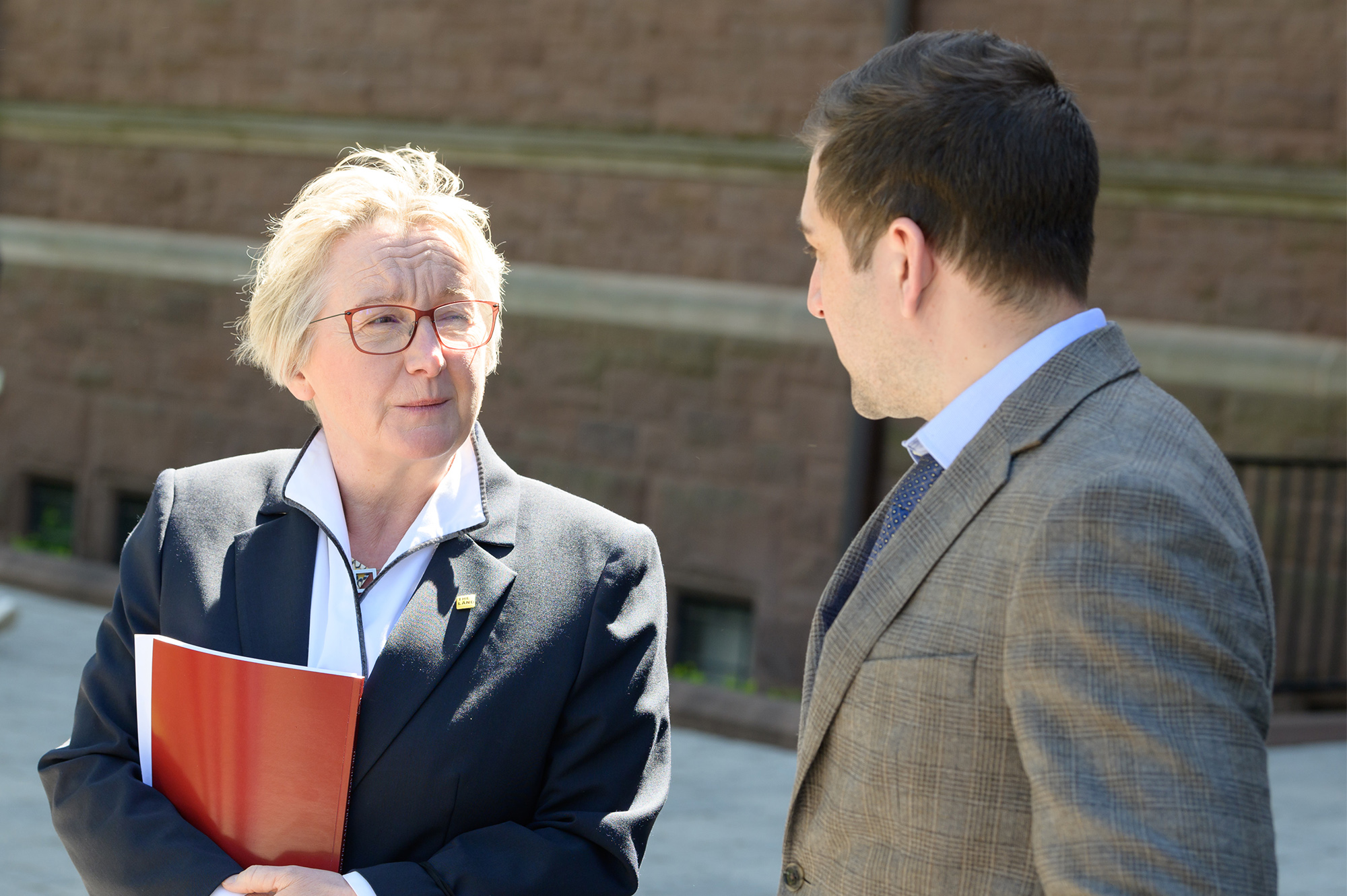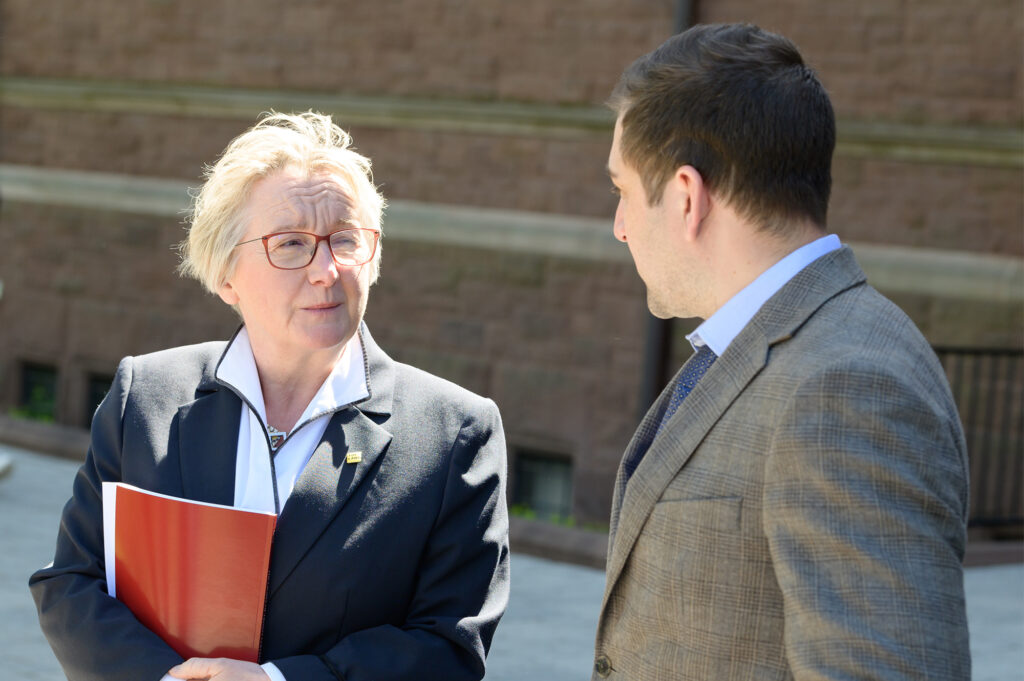 Minister of Science, Research, and Arts for the State of Baden-Württemberg Theresia Bauer led the German delegation, which included more than a dozen presidents and other administrators of major universities in Baden-Württemberg. As part of a multi-day visit to Connecticut colleges and universities that participate in this partnership, the delegation met with members of the Trinity administration and faculty on campus on Tuesday, May 10.
Trinity President Joanne Berger-Sweeney spoke with the delegation about the role and relevance of the liberal arts and the ways in which Trinity makes local and global connections. Trinity was the only liberal arts college visited during this trip. In addition, Dean of the Faculty and Vice President for Academic Affairs Sonia Cardenas and Ben Carbonetti, director of Trinity's Human Rights Program and lecturer in human rights, gave an overview of Trinity's Human Rights Program.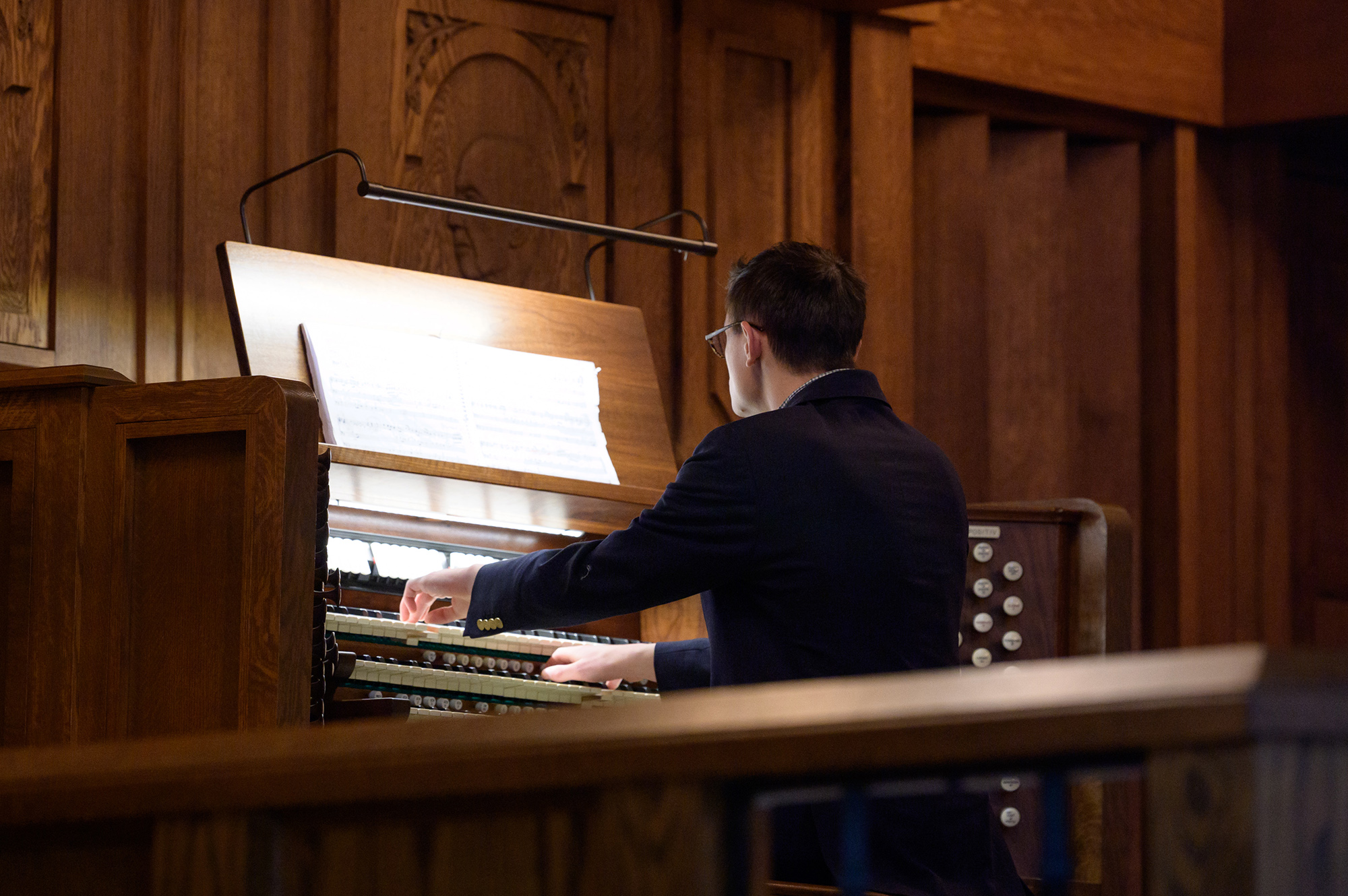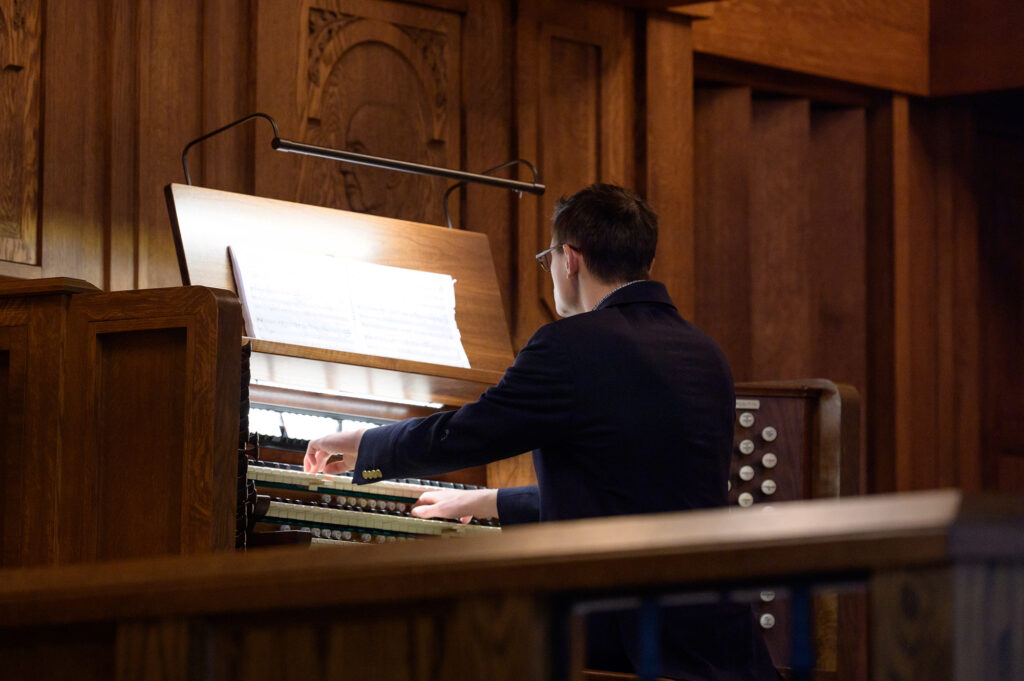 Following lunch at the Smith House, the guests enjoyed an organ recital at the Trinity College Chapel performed by John Rose College Organist-and-Directorship Distinguished Chair of Chapel Music and Artist-in-Residence Christopher Houlihan '09 and Zac Schurman '22. The afternoon concluded with a tour of the Watkinson Library. (See sidebar below.)
Professor of Language and Culture Studies Johannes Evelein, who is the head of German studies at Trinity, said that Trinity has participated in this student exchange program since the 1997-98 academic year. "Since this is a true exchange, a Trinity student can choose one of the participating universities in Baden-Württemberg that's best for them, and then Trinity in return can receive one German student," Evelein said. "Baden-Württemberg has some of the top universities in Germany, if not in the world."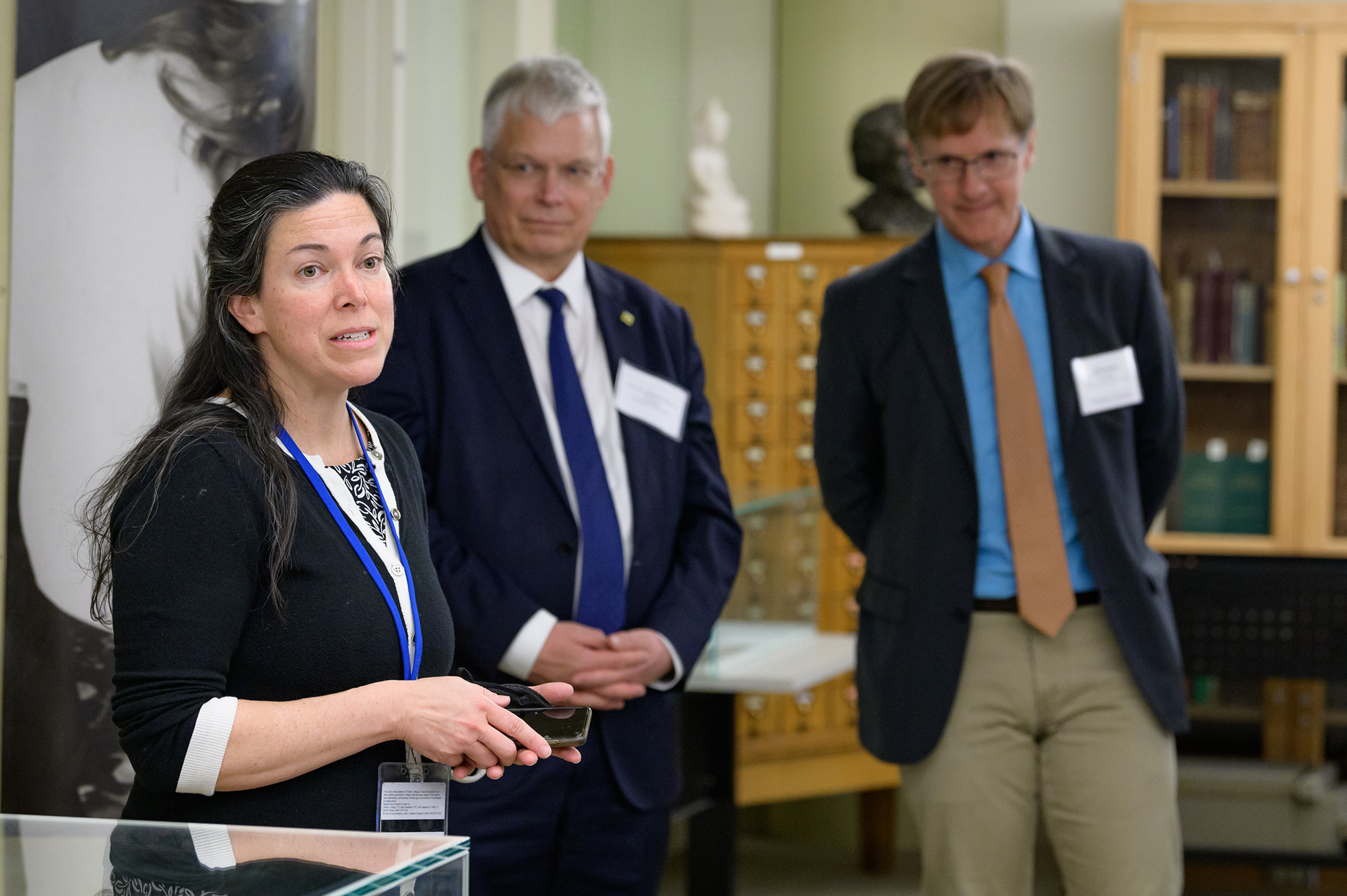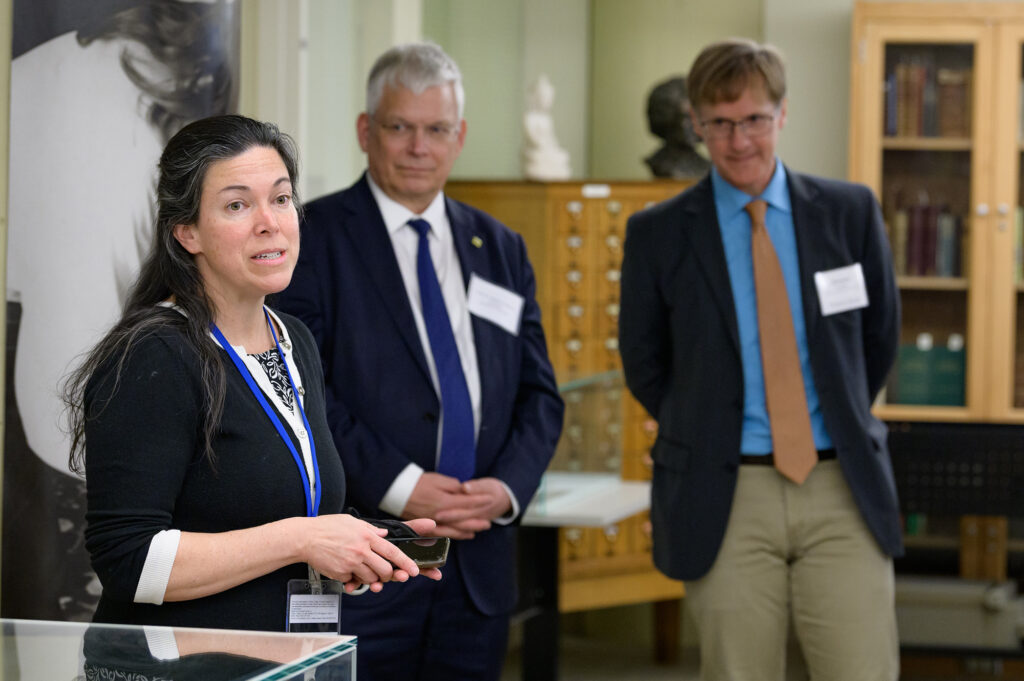 A Trinity student's semester in Baden-Württemberg is preceded by a credit-bearing six-week language and culture program. "Trinity students have the option to take academic courses through a program at a participating university designed for international students, or to take regular courses with German students," Evelein said. "This exchange also facilitates internships."
Evelein added that Trinity is primed to play a significant role in the partnership's Human Rights Research Consortium, which provides a platform to support academic collaboration between researchers in Connecticut and Baden-Württemberg. "Trinity has the first human rights program at a liberal arts college, so there is an additional connection between this program and Trinity," Evelein said.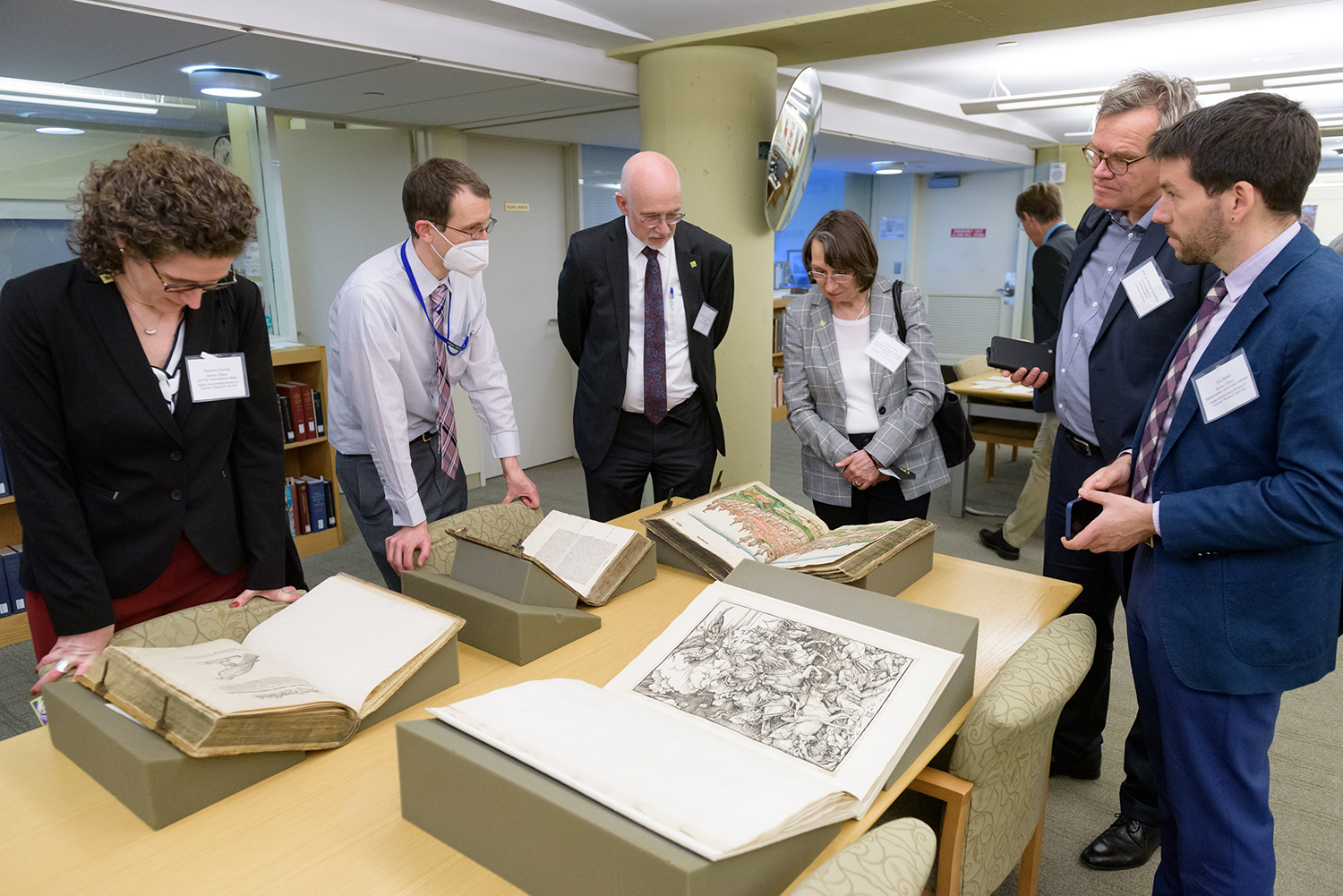 Trinity students who have taken part in this exchange program often say that their time in Germany was a period of tremendous personal growth. Sarah L. Thomas '20, who double-majored in political science and German studies at Trinity and now is a government relations specialist at The Vectre Corporation, studied at the Eberhard Karls University of Tübingen. "I was able to take an array of courses with other exchange students, which helped immerse me without leading me to feel overwhelmed. I also took one course in German literature where I was the only non-German student," Thomas said. "Arriving in an unknown city and knowing almost no one in Tübingen was certainly a challenge. However, navigating that experience helped me grow. I left Tübingen in love with Baden-Württemberg, with more confidence in my German language skills, and with a group of incredible friends."
Kristian Thomas Emmons '21, who majored in German studies at Trinity and now is a logistics management specialist for the Department of Defense, studied at the University of Konstanz. "I'd never been 'the only American in the room' until I arrived in Konstanz," he said. "Being around native German speakers, as well as others who were learning German at the time, was greatly beneficial to my learning process. I made so many friends over there with whom I still regularly speak. I will always look back positively on my experiences in Konstanz and I'm thankful for Trinity for making it happen."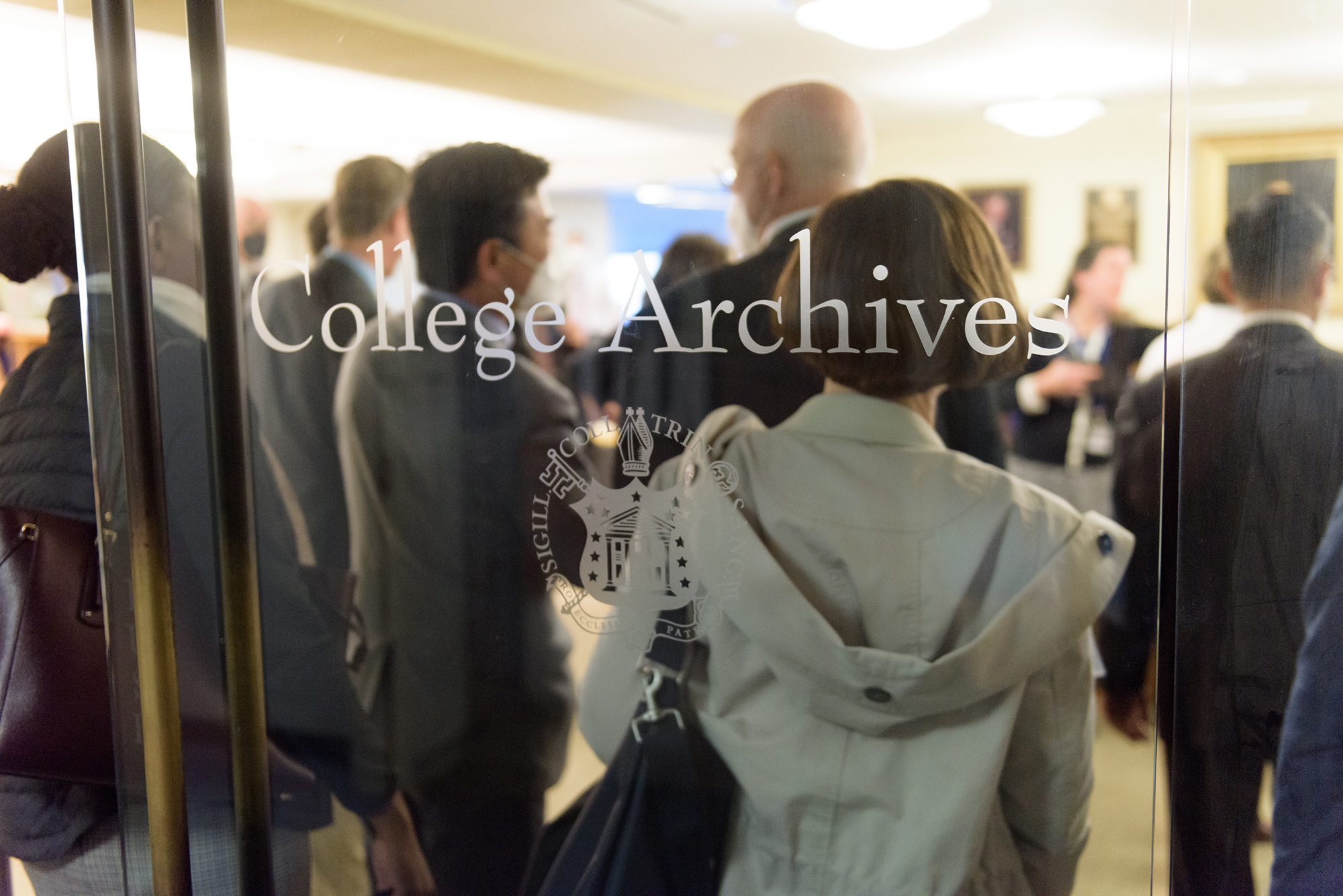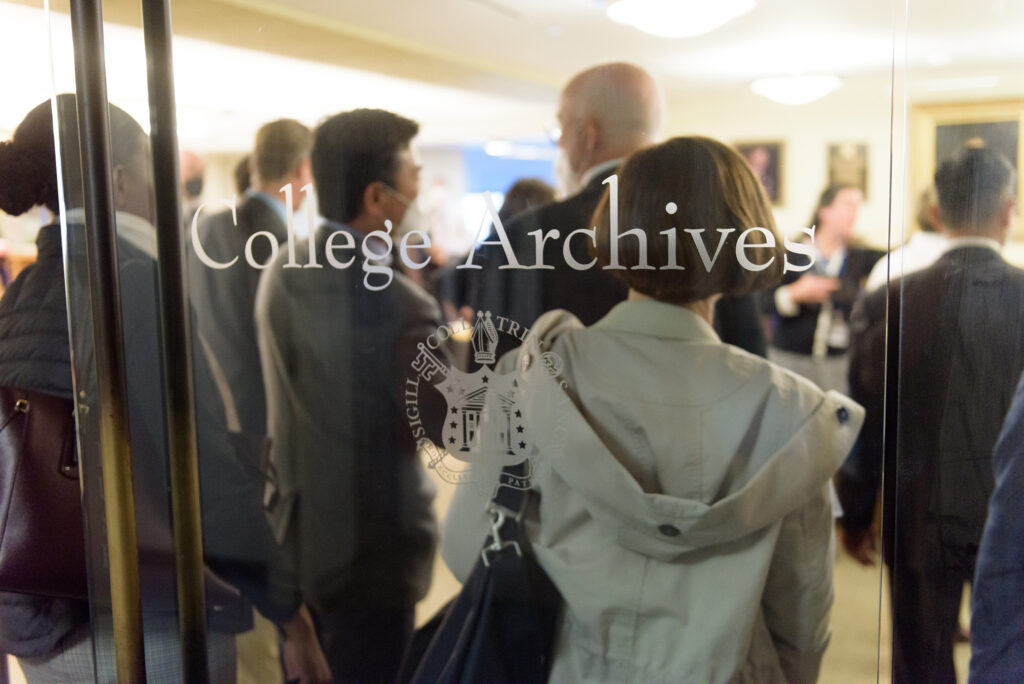 Jennifer Summerhays, the director of Trinity's Office of Study Away, said that approximately 60 percent of Trinity students choose to study away. "Students are encouraged to consider all Trinity-approved programs that will challenge and inspire them academically and culturally," said Summerhays. These include Trinity's five signature programs in Cape Town, New York, Rome, Shanghai, and Vienna, and more than 80 approved external programs and exchanges, both international and domestic.
Summerhays added that the Baden-Württemberg exchange is an especially immersive opportunity. "Students study at top-tier universities in Germany, which requires a commitment to language learning and cultural understanding. Students enticed by this exchange are those who want to know what it feels like to be a local student studying at a university," she said. "The B-W exchange cultivates independence and initiative in students and requires them to problem-solve and engage with local culture in an authentic way."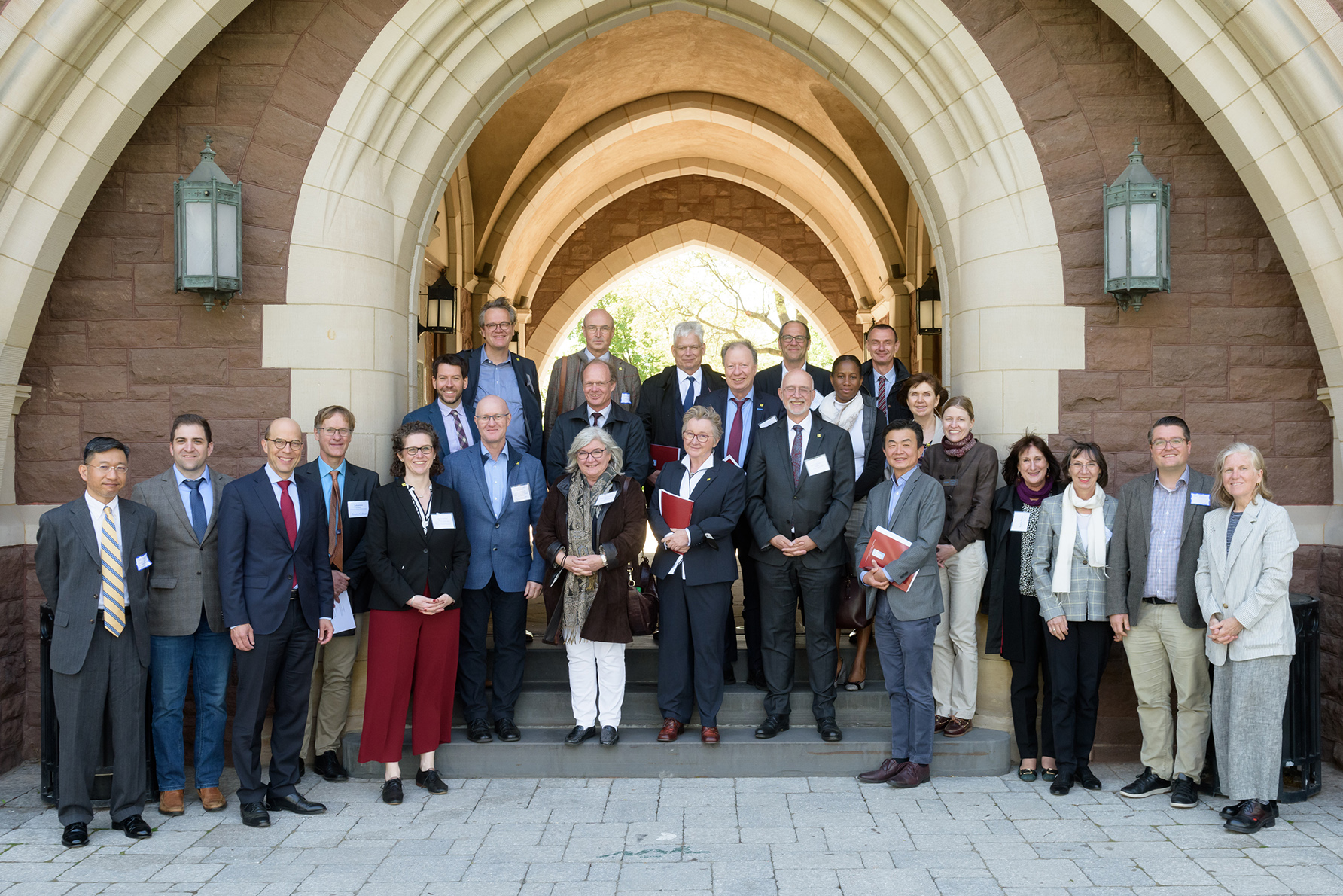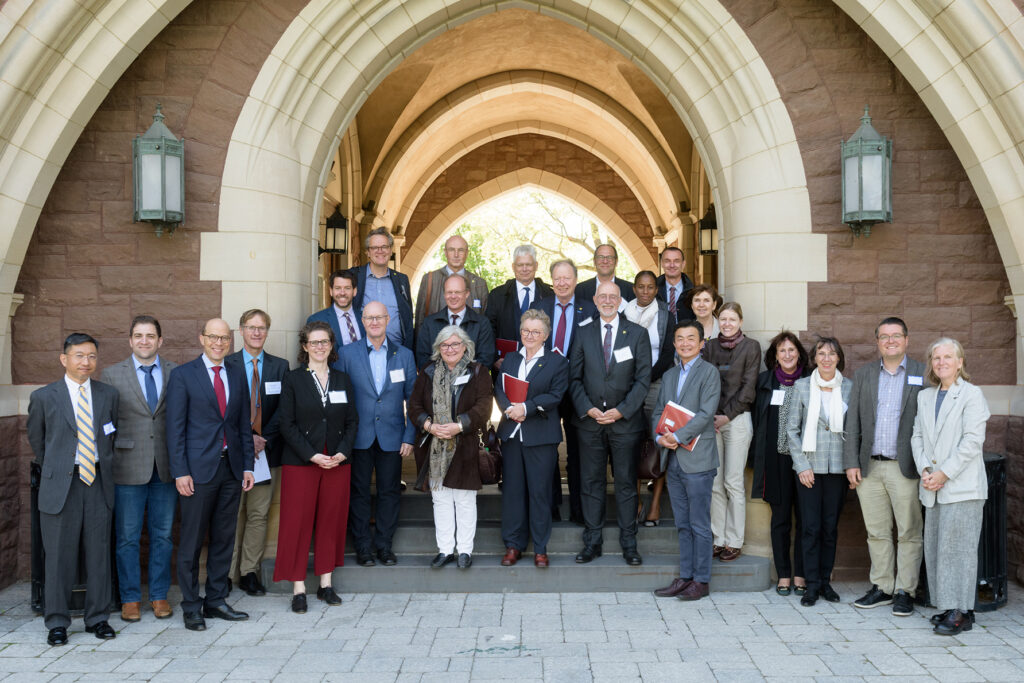 For Trinity students, experiences like this exchange program can be rites of passage. "They force us to shift our perspectives, reshape our opinions, and examine different ways of being," Summerhays said. "This is what it's all about: to return more culturally competent, more self-aware, and as more empathetic people. Global experiences offer life-long returns. They often shape the careers we choose, the worldviews we adopt, and the way we walk in the world."
For more information about the Baden-Wuerttemberg–Connecticut Partnership, click here.
Learn more about study away options at Trinity College here.
On Display in the Watkinson Library:
During their visit, the German delegation's tour of the Watkinson Library included viewings of several highlights from among Trinity's rare books and special collections that carry cultural and historical significance. According to Associate Vice President for Libraries and Distinctive Collections Christina M. Bleyer, these included:
The Birds of America by John James Audubon
History of Tom Jones (1750) and Considerations on Criminal Law (1774)—owned and signed by George Washington at 19 and approximately 43 years of age, respectively
Freedman's Torchlight (1866)—the only surviving issue of this 19th century newspaper, printed by a free Black community in the Weeksville neighborhood of Brooklyn in order to teach newly free Black people how to read
Poems on Various Subjects (1804) by Phillis Wheatley, the first Black woman to be published in America
"Let America Be America Again" by Langston Hughes—first partial printing of the poem in Esquire magazine 1936 and first complete printing in A New Song (1938)
Leaves of Grass by Walt Whitman (1855)—1st edition
One Hundred Views of Mount Fuji (1834-39)—a late masterwork by the Japanese printmaker and painter Hokusai
Mr. William Shakespeare's Comedies, Histories, and Tragedies (1632)—the Second Folio
A Christmas Carol by Charles Dickens (1843)
Through the Looking-Glass, and What Alice Found There by Lewis Carroll (1872)—with an original pencil drawing by the illustrator John Tenniel
The Nuremberg Chronicle (1493)—one of Watkinson's four copies of this book, the most highly illustrated print book of the 15th century
Prints of Albrecht Durer's Apocalipsis cum figuris (1498)
De Rudimentis Hebraicis (1506)—the first printed Hebrew grammar book by the great German humanist Johann Reuchlin
Conrad Gessner's Vogelbuch (1582)—an important 16th century work of ornithology
Signed letter written by (Samuel Clemens) Mark Twain
Indentures of servants and apprentices, and slave sale ephemera
Manuscript map of Connecticut River Valley
"Voices of Migration" Oral History Project
Resist Collection—digitized materials
Daguerreotype of Lydia Sigourney, photographed by Augustus Washington
Diary of Henrietta Gardiner, who traveled to Europe in 1874
Black Panther newspapers
Poetic works of Carl Spitteler, Swiss poet