Back to News
Shawn Olstein '22 Awarded Yenching Scholarship to Pursue Master's Degree in China
Alumni
posted
by Kate Whitman '23
Recent Trinity College graduate Shawn Olstein '22 has been named a 2022 Yenching Scholar by the Yenching Academy of Peking University in China and will receive a full fellowship to pursue an interdisciplinary master's degree in China Studies.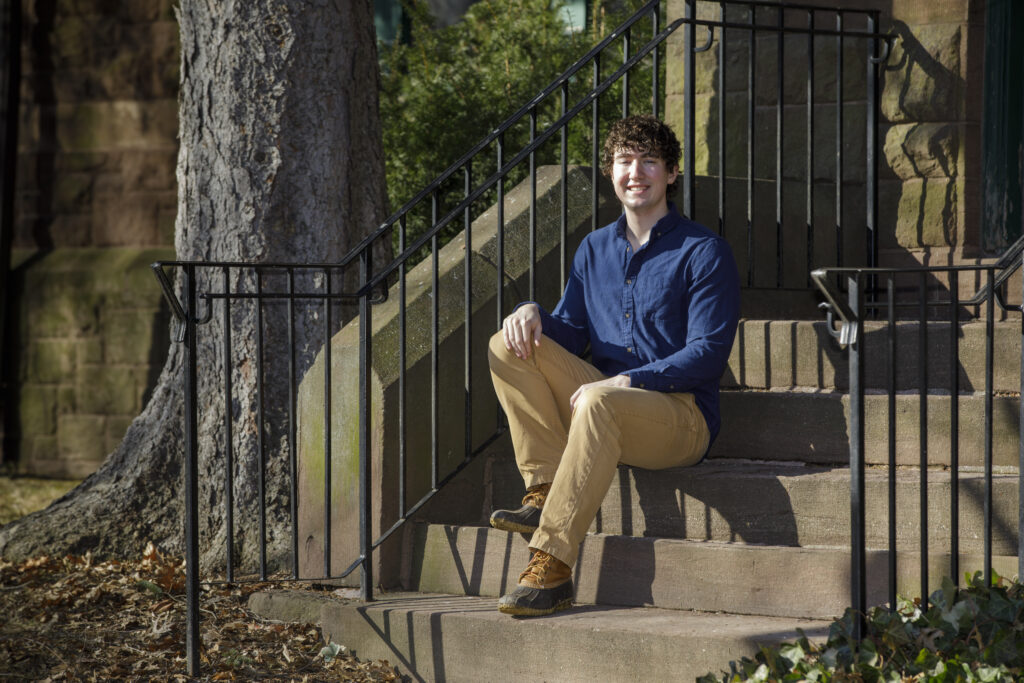 A Yenching Scholarship offers students a wide array of courses to help broaden their understanding of social sciences and the humanities, along with opportunities for field work and extracurricular activities to develop their understanding of China as global citizens.
"I never got a chance to go to China or Taiwan [due to the COVID-19 pandemic] or to use the language and my knowledge of the culture there, so having the opportunity to study at a leading university and being surrounded by peers from around the world in China is the study abroad opportunity I never got," said Olstein, who majored in political science and Asian studies.
During his time at Trinity, Olstein was a part of the Mock Trial Team and served on the Honor Council. In addition, Olstein served as the president of the Class of 2022 and the president of the Ulmus Literary Society. During his first year at Trinity, Olstein received the First-Year Papers Award and was named a Deans' Scholar for being among the 25 full-time, first-year students with the highest grade point averages at the end of their first year at Trinity.
Coming to Hartford from Kinnelon, New Jersey, Olstein wanted to attend Trinity because of the smaller student body and greater opportunities to build strong and lasting relationships with professors. "That's what's been most helpful during the process, because Trinity is small enough where you can get to know your professors who know the processes of things like the Yenching Scholarship, and they can help guide you," he said. Olstein turned to many of these faculty members to write recommendations for him as part of the scholarship application.
"The professors who influenced me the most at Trinity are Associate Professor of Political Science Reo Matsuzaki, my advisor, and Assistant Professor of History Clark Alejandrino," said Olstein. "Professor of Political Science Stefanie Chambers also wrote a recommendation for me."
Chambers emphasized her commendation of Olstein's thesis in political science. "Shawn is a hard worker who has high expectations of himself. I've also come to see Shawn as someone with strong peer relationships and remarkable collaborative skills," said Chambers. "These attributes will help him as he embarks on the Yenching Scholarship experience."
Alejandrino said that the scholarship fits Olstein very well. "He has a keen intellectual curiosity for China, is willing to act on it by taking as many classes as he can that relate to his interest, and displays openness, diligence, and intelligence in his study," Alejandrino said.
Matsuzaki added, "Shawn produced a fascinating honors thesis on a topic that would be central to U.S. security, and more fundamentally, the future of democracy itself: Chinese and Russian disinformation campaigns within democracies. The specific focus of the thesis project is on analyzing differences in how the Chinese and Russian governments have sought to shape political discourse in the United States."
Olstein's interest in applying to be a Yenching Scholar relates directly to his studies at Trinity and to his goals for the future. "A lot of what I've done at Trinity with political science and Asian studies has been focused on China and the national politics," said Olstein. "Studying at the Yenching Academy is an extension of the Trinity education I've received through the American perspective—so being in China, I will get the Chinese perspective through the culture." Olstein hopes to pursue a career in diplomacy and security, working for the U.S. Department of State.
Read about another Yenching Scholar from Trinity College, Stanislav Knezevic '21, here.