The Cities Program began in 1996 and has engaged first-year students at Trinity in the study of Hartford and global cities since.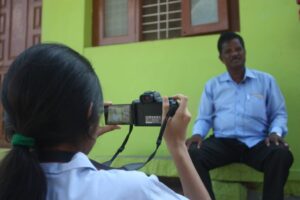 Nayantara Ghosh '22
"What stands out to me most is how much being part of Cities marked the rest of my time at Trinity. The Cities program is full of incredible people ready to support and help you. My connections with them are a big part of why the program was so meaningful to me. Through the Center for Urban and Global Studies (fondly, CUGS) my peers and I were also able to experience and learn so, so much – from researching with professors in Urban Studies, to conducting independent research through grants, and traveling to China with classmates to learn about development and urbanization there. Ultimately, this is a program that really defined the relationships and experiences I've been so lucky to have."  
Bella Paris '25
"When I learned about the Cities Program, I knew that it was something I would love to be involved in. I applied to three of the gateway programs and was thrilled to hear that I was accepted into the Cities Program. Being a part of the Cities Program was a great way to start my years at Trinity College, and really helped me ease my way into college. I was able to take four classes in the Cities Gateway, so it was a great opportunity to have four classes with the same group of people. I had an instant connection with new people that I would take classes with and who would become my friends, and one of them even became my roommate! We were given assignments where we would have to go out and explore the city of Hartford.
It was an incredible way to learn more about my new home. We walked around different neighborhoods, took the bus, and learned the system, and tried new restaurants. I was encouraged to explore the new city I was living in and was able to experience new things with members of the Cities gateway! It was an amazing experience to learn about the different neighborhood of Hartford, and the different aspects of the city! Not only did it help me become acquainted with the city of Hartford, but I was able to learn core concepts about urban studies and the complexities of a city. I was taught to look at both modern day cities, and ancient cities to think about what makes a city a city, and what shapes our urban landscape. The Cities Program has also helped me develop relationships with my professors and discover that the Cities Gateway program has helped me realize that I want to continue my studies in the field of Urban Studies! I highly recommend this Cities Program to anyone interested; it has given me many new opportunities for my future at Trinity!"
Emma Kozak '25
"The Cities Program at Trinity was an important part of my first-year experience. The small, tight-knit group of students in the program became my friends and a support network across campus. The Cities Program provided me with many opportunities to involve myself and learn about the surrounding community, whether through walking tours or studying and discussing Hartford in class. The Cities Gateway allowed me to investigate topics that interested me, with broad scope projects such as researching my hometown of Baltimore or focusing on the social justice issues such as the homelessness epidemic in San Francisco. Cities has provided me with a support network from professors and peers which has empowered me to explore my interests and immerse myself in the Trinity community."