The Center for Student Success and Career Development is here to support Trinity College students remotely.
We understand there are many unknowns right now that make it difficult to focus on your career, and that's okay. We are here for you when you are ready with continually evolving virtual resources to meet your needs. Please work with us while we make this transition to adjusting our services. We are finding ways to serve all students through virtual appointments, email résumé and cover letter reviews, webinars, pre-recorded videos, and online resources. Regularly check back at this website for updates in services and resources.
Email us at careers@trincoll.edu with requests and questions.
Maximize Your 2021 J-Term
As you transition into Winter Break and J-Term, you might be exploring ways to make the most of your longer break. We've designed this Maximize Your J-Term document to help you brainstorm ways to focus on your career and professional development.
Check out our recent Job Search Strategies Webinar about searching for internships and jobs during 2020. Great advice for current students and recent graduates!
Career Coaching Appointments
Students can schedule virtual one-on-one career coaching appointments in Handshake. We offer phone and Zoom appointments.
Email careers@trincoll.edu if you are having difficulty finding a time that works for you.
Career eReviews
Career Development is now offering résumé and cover letter reviews over email. Submit your documents today!
To request a review of your résumé or cover letter email careerdevelopmentinterns@trincoll.edu with the following:
Your goals for the critique and how you will be using the document. Please be specific.
E.g. Résumé review for marketing internship, cover letter for analyst position with Infosys, résumé for law school applications, master résumé updates, etc.
Copy of the document in Microsoft Word (recommended) or a link to Google Docs with "anyone with link can edit" access provided.
Copy of relevant position description.
Feedback on your career document will be shared via email within 48 business hours. Email requests must contain all relevant details above to ensure a timely review.
All Career Development Interns have signed confidentiality agreements and receive intensive training on document reviews.
Virtual Events
Employers are starting to convert their in-person information sessions to virtual events. Career Development is updating many previously scheduled spring events to a virtual format and developing new virtual offerings. Take a look through the Events section of Handshake on a regular basis for new opportunities. Can't make an event? We'll be adding the recordings of Trinity-hosted virtual webinars in Handshake!

Recordings:
External Events:
 Digital Career Resources
The following resources can be used at your own pace to support throughout your career journey. To access online resources, log into your Handshake account, and go to the Resources section or click on one of the links below.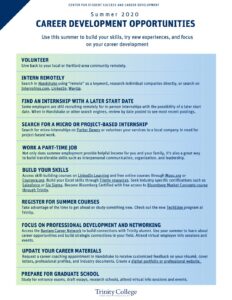 Virtual Resources
Trinity College Career Guides
Helpful Links
Earning Credit for your Summer Internship