Whether you are just beginning your job search or have specific career in mind, Career Development provides career coaching appointments and online resources to help you secure your dream job.
On this page, you will find information to explore career opportunities, develop your strategy, find opportunities, and more:
Explore Careers

Explore career ideas by reviewing our Job Search Guide, reviewing our Career Exploration and Career Communities Webpages, meeting with a career coach, speaking with Trinity alumni, accessing Focus2 for career and major assessments, and using Vault for in-depth career guides.
Search for Opportunities
Design your search strategy by meeting with a career coach to discuss goal setting and industry timelines.
Build your career-related documents using our Résumé Guide, Professional Writing Guide, and by attending the Career Studio for a peer-review.
Search and apply for positions with employers specifically seeking Trinity students and alumni in Handshake. Learn networking strategies, build your LinkedIn profile, and explore Bantam Career Network by using our Networking Guide. Find industry based professional associations on our Career Communities Webpages.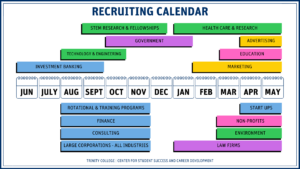 On-Campus Recruiting

Did you know that many employers come on-campus to conduct in-person interviews? Learn more on our On-Campus Recruiting webpage.
Life after Trinity
Bantams and Beyond: Senior Series
The Center for Student Success and Career Development's Bantams and Beyond Senior Series prepares students to explore and prepare for life after college. Whether you are unsure of your future plans, are in the process of applying for jobs or graduate school, or have already obtained post-graduate employment, the Bantams and Beyond Series is designed for you.
Combining interactive workshops, alumni talks, and networking opportunities, over the course of your senior year, Bantams and Beyond will give you the tools you need to find your first job, prepare for stellar success in the workplace, and thrive in your professional and personal life after graduation. Learn more and register for individual workshops and events in Handshake.
Safe Practices in Your Search

When searching for positions on job boards outside of Handshake, we highly discourage posting your résumé for employers to find you. If you do choose to post your résumé to public websites, remove your home address and any contact information you do not want publicly available.
Career Development at Trinity College does not provide employers access to students' emails. All legitimate contacts from employers to your Trinity email account will originate from the college's Handshake system. Handshake provides you with the ability to make your profile public to employers or to keep it private, and only employers approved by Career Development are able to access the system.
Indicators an employer email may be fraudulent include:
There are typos or spelling mistakes in the email
The message is sent from a personal rather than employer email account (example: @Hotmail.com rather than @thecompany'sname)
The "employer" asks you to send them confidential information or money
Read more warning signs in this article
If you ever have a question about an email that you have received from an employer, please do not respond to the email and instead contact Career Development to verify its authenticity.