Joseph Catrino, Executive Director of Career & Life Design
Joseph (Joe) leads a team of highly dedicated professionals within the Career & Life Design Center, who represent the offices of Career & Life Design, International Students and Scholars, and Retention Strategy & Transition Programs. Joe's expertise includes his focus on life design and design thinking work, in which he encourages individuals to be innovative in their ability to problem-solve, especially as it relates to planning and executing personal and professional life goals. Through his teaching and knowledge of the "design thinking" framework, Joe has been instrumental in transforming the way students think and problem-solve their career goals. Joe has over 18 years of experience in higher education, in various capacities including admissions, enrollment, marketing, and career development, at institutions such as Quinnipiac University, Yale University, and the University of Hartford. Since Joe joined Trinity in 2015, he has strategically collaborated with colleagues across campus to identify and implement creative and forward-thinking programs and initiatives that address evolving employment and education trends, such as connecting the liberal arts to real-world success, and fully supporting the College's mission. Joe serves as an agent of change and continues to represent Trinity in a progressive way by sharing his passion for design thinking, personal branding, and preparing students for the future of work, through both his presenting at various conferences across the U.S. as well as teaching first-year seminar courses. Joe holds an MBA from Quinnipiac University, an M.A. in communication from the University of Hartford, and a B.A. in history and communications/public relations from Marist College. 

Olivia Corso, Senior Assistant Director of Operations & Marketing
Olivia's career has included roles within both academic and corporate spheres, along with an entrepreneurial turn, as well! Olivia's greatest impacts most often are centralized around her passion for mentoring and dedication to continuous improvement. As Senior Assistant Director of Operations and Marketing, Olivia serves in a holistic, multi-functional role within the Career & Life Design Center, orchestrating smooth and successful large-scale event logistics along with creative development of the Center's brand. Olivia enjoys the opportunity to build relationships with Trinity students, both as coordinator of the Center's Service Ambassador program and also through her accessibility to students in support of the Center's mission. Olivia received both her Bachelor of Science in Business Administration and Master of Science in Organizational Leadership from Western New England University. Olivia's desire to continue meaningful work in higher education, especially in student success, continues to grow, and she is grateful for the chance to be part of an industrious team at Trinity College.

Katharine Clair, International Student Advisor
Katie earned a BA at Elon University in International Studies and a M.Ed. in Higher Education Administration along with a certificate in International Higher Education from Kent State University. Katie has worked at Trinity since August 2013. In 2016, she was selected to participate in the Fulbright International Education Administrator's Seminar in Japan. She has spent time living abroad in Sicily, London, and Bulgaria. She currently lives in South Windsor with her husband (Nick), son (Nate), daughter (Josie), and dog (Tiny). She loves traveling around the world, film, all genres of music, trivia, food, and learning more about your culture and home!
Connect with Katie on Handshake! 
Maria Dyane, International Student Program Coordinator and Career & Life Design Coach
Maria, a proud Trinity first-generation international alumna, earned a B.S. in Economics and Computer Science, and an M.P.P from Trinity College. During her undergrad, she was very involved on campus and enjoyed her Trinity journey as a student, through its ups and downs and the everything in between. After graduation, she decided to work at her alma mater, where she took on various roles within the Bantam Network. Through her daily work and interactions with student, staff, and faculty, her love of working with students and her passion for empowering people grew even stronger. Before making the move back to higher education recently, in her new dual role in the Career & Life Design Center, Maria worked in the hospitality industry as a director of marketing and communication, and in the consulting industry, as a strategy and management consultant, where she had the opportunity to work with clients from across the globe. Maria is excited to work with students to help them navigate their journey to, during, and after Trinity.

Katie Franklin, Administrative & Marketing Assistant
Katie (she/hers) joined the Career & Life Design Center in spring 2020 to support the team, administratively and operationally, with facilitation of programs and services that help our students complete and graduate college. Katie adds depth to the team by participating in the implementation of programs and logistical support. She helps to further the team's capacity to continuously improve services by being data-informed. As lead administrator, Katie will connect students and families with the most appropriate campus resource to meet their needs. Prior to joining Trinity College, Katie held administrative leadership roles within both the retail and private sectors. She received a Bachelor of Arts in Cultural Anthropology from Central Connecticut State University and a Master of Science in Forensic Anthropology from the University of Edinburgh in Scotland. Katie is excited to have been welcomed into such a pivotal role in the Career & Life Design Center at Trinity and is eager to deepen her expertise in higher education.

Paul Gagnon, Alumni Career Consultant
Paul received the MBA degree from Rensselaer Polytechnic Institute, M.A. in Public Policy from Trinity College, and AS/BS in Plant and Soil Science from the University of Massachusetts. Paul's career is really four careers rolled into one. The first 10 years were devoted to learning everything about the golf industry, which included holding positions of Assistant Greens Keeper and Assistant Golf Pro. After his time in Malaysia participating in the U.S. Peace Corps, he earned his MBA and then went on to work for 14 years in strategic planning, financial research and analysis, new business development, mergers and acquisitions and product marketing with three Fortune 500 international agribusiness, food, beverage and agri-genetics organizations. Since that time and over the past 25 years, he started and managed for over a decade his own management consulting firm where he advised executives of government agencies and small businesses, and then diversified into roles in higher education where he designed curricula for and taught numerous college courses in entrepreneurship, business and management, counseled students on career management, helped launch Wesleyan University's Social Entrepreneurship Center, and even served as the Interim Associate Dean at Central Connecticut State University, School of Business. Paul's most recent higher education experience since January 2020 is as a Career Counselor with UConn's Master of Science in Business Analytics & Project Management program, and for seven years prior to that worked at the UConn Center for Career Development where he primarily served students and alumni from the College of Agriculture, Health and Natural Resources, School of Nursing and School of Pharmacy. Connect with Paul on Handshake!

Peter Maribei, Associate Director of Career & Life Design
As an educator, professionally trained life coach, and administrator, Peter specializes in experiential learning strategies that contribute towards the development of intercultural competence, moral imagination, and socially responsible leadership among college students and early career professionals. Peter believes that a sound education should not only make people good at what they do, but also in who they are. Prior to joining Trinity College, Peter worked in different capacities at Miami University of Ohio and University of San Diego, managing study away and study abroad programs. Peter has also mentored students and scholars from the Americas, Africa and Asia in various international internship, fellowship, and exchange programs such as the Leadership Entrepreneurship and Achievement Program (LEAP), the Hansen Summer Institute for Leadership and International Cooperation, the Mandela Washington Fellowship, and the Fulbright Scholar Program. As an avid Life Design educator, Peter has facilitated Designing Your Life workshops both in-person and virtually to international audiences. In the academic sphere, Peter has taught leadership and management courses at the International Leadership University-Kenya and in the Leadership Minor at the University of San Diego. Peter has a Bachelor of Science degree in Computer Science from the University of Nairobi. After attaining a Master's Degree in Leadership Studies at the International Leadership University-Kenya, Peter proceeded to earn a PhD in Leadership Studies from the University of San Diego. When not spending time coaching emerging leaders, Peter enjoys the occasional movie, hiking, and scouring social media for tech innovations that are impacting how we live and work. Connect with Peter on Handshake! (Click here to view a special message from our new Associate Director!) 

Ruby Matheny (she/hers) is a proud first-generation college graduate. She has a passion for equity, inclusion, and community building which she channels into her work in higher education. While Ruby studied Political Science and Philosophy in her undergrad (MSU Denver), she remained determined to positively shape the world through high-impact practices in higher education. Ruby has worked in new student orientation, data, internship management, relationship management, life design, diversity and equity/antiracism, and career development. At Trinity, Ruby serves as the Internship Coordinator. Alongside the Career & Life Design Team, she implemented the new Internship+ model, Handshake Experience, and accompanying course. She serves as the faculty of note for all of the internship for credit experiences. In her spare time, Ruby is a mom, an avid reader, audiophile, writer, artist, camper, exercise enthusiast, and is always looking to contribute to the relief of suffering in the world. Connect with Ruby on Handshake!

Eily McGowan, Summit Fellow for Retention Strategy and Transition Programs
Eily joined the Career & Life Design team in February 2022 as the Summit Fellow for Retention Strategy and Transition Programs. At Trinity, she is contributing to the team by working with Roberta Rogers in supporting retention efforts and helping students navigate transitions. Eily received her bachelor's degree in Urban and Community Studies from the University of Connecticut. While she attended UConn, Eily enjoyed being a Big Brothers Big Sisters Mentor and playing club ice hockey. In her free time, Eily enjoys spending time with family and friends, playing hockey, going for walks, watching British crime dramas, and going to the beach in the summer. She is very excited to be a part of the Career Life & Design team at Trinity and is looking forward to helping students adjust and experience all that Trinity has to offer.
Lisel Moynihan, Assistant Director, Career & Life Design
Business | Finance | Consulting Career Community
Lisel Moynihan joined the Career & Life Design Center in September 2022 to support students exploring and pursuing careers in business, finance, and consulting. Her background includes work as a Career Advisor for undergraduate business students at the McCombs School of Business, The University of Texas at Austin. She is a graduate of the University of Delaware, with a Bachelor of Arts degree in History with a minor in Art History. Lisel is excited to be a part of the Career & Life Design Team and looks forward to meeting and working with the students, faculty, and staff of the Trinity community.

Roberta Rogers, Director, Retention Strategy & Transition Programs
Roberta's career centers on identifying and interceding on behalf of observed trends and helping constituents effectively navigate transitions. Roberta has developed and implemented robust orientation and transition, student leadership, and peer mentor training programs and implemented a strategic plan for Retention Strategy & Transition Programs. She mentors and supervises both professional and student staff and though she supports all students and families at Trinity, Roberta is steeped in experience with transfer, first-generation, post-traditional, student-athletes, and high-achieving students. As Trinity College's Director of Retention Strategy & Transition Programs, Roberta is the architect of Trinity's retention strategy, collaborating with key divisions to continue the cultivation of a data-informed retention eco-system. Roberta is deeply connected to the mission and power of higher education and is not only a Trinity alum (Bachelor's and Master's), but she is also a 'legacy' (Roberta's mother graduated among the first class of women at Trinity '73) and is the parent of a student-athlete from the class of '18. #ProudBantFam

Severn Sandt, Senior Assistant Director of Strategic Partnerships & Outreach
Sev came to Trinity in 2014 with over 20 years of experience in journalism and television production. After college, she joined ABC News as a production assistant, advancing to coordinating producer on such programs as PrimeTime Live, The Century with Peter Jennings, and Hopkins 24/7.  At ESPN/ABC Sports, she moved into finance and operational roles, overseeing teams covering the PGA Tour, the X Games, Thoroughbred horse racing events including the Belmont Stakes and Breeders' Cup, national and international figure skating championships, and two NFL Super Bowls.  She is the winner of two Emmy Awards. At Trinity, Sev serves as the principal liaison between the Career & Life Design Center and employers outside of Connecticut from a variety of industries and sectors.  In concert with companies and organizations across the nation, she generates internship and full-time opportunities for Trinity students, enabling them to lay strong foundations for their professional lives. Sev holds a B.S. in mass communications with a concentration in marketing management from Boston University.  Outside of Trinity, she's an outdoor adventure seeker, with rafting the Grand Canyon, kayaking and snorkeling Belize's Blue Hole, and hiking the Canadian Rockies among her favorite trips to date.  Beyond these, listening to the BSO on the lawn at Tanglewood, getting lost in the galleries of the Met, and wandering the paths of Elizabeth Park are some more placid endeavors that bring her great joy.

Meet Our Student Staff
Career & Life Design Interns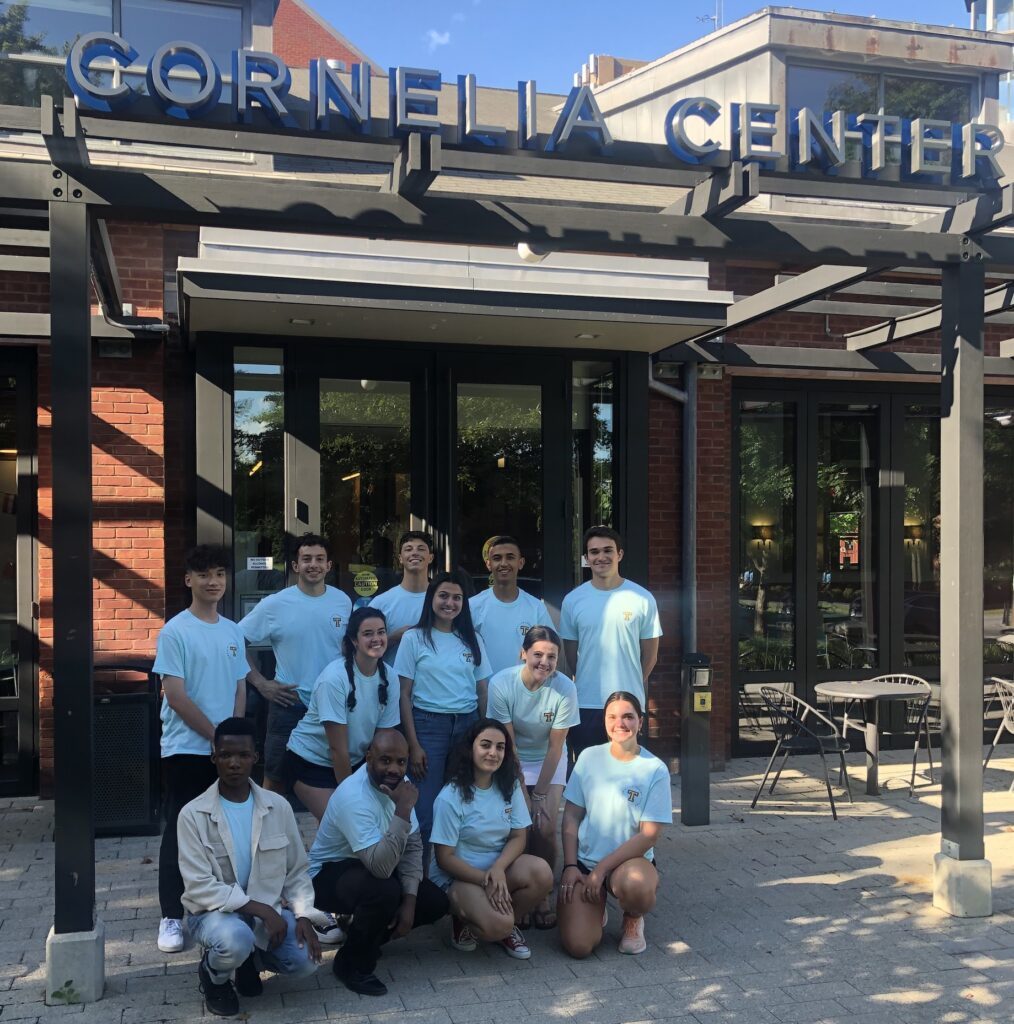 The Career & Life Design Interns are central to the creation of a friendly, welcoming environment in the Center, serving as the 'first impression' and providing exceptional customer service to constituents both on and off campus, as well as contributing to the Center's recognition as the premier locale on campus for responsiveness, satisfaction, engagement, and quality of guest experience. In addition, Career & Life Design Interns lead The Studio, create content for our social media channels, and support our team in organizing and implementing events and programs. Meet this year's team:
Hung Pham '25
Matthew Marottolo '24
Jon Carafotes '24
Obaid Ajoughlal '24
Tudor Ionescu '25
Carolann Sarfaty '23
Nanci Lopez Flores '23
Emily Grady '24
Kelvin Henry '25
Lili Davtyan '25
Madelyn Forbes '25
Isabelle Tagliaferro '25
Ronnie Scott '25
Xavier Mercado '24
Citlalli Rojas '23
Zoe Sylvester-Chin '23
Nelly Walker '23
Meet this year's Marketing Associate:
Meet this year's Design Intern: