Spring 2023
FUTURITY
Music by César Alvarez with the Lisps
Book and Lyrics by César Alvarez
Story development and additional text by Molly Rice
Directed by Michelle Hendrick  
March 9-11, 2023, Th.-Fr. 7:30 p.m. and Sat. 2:00 p.m.
Goodwin Theater, Austin Arts Center
"César Alvarez is changing the American musical form, and the world" -American Theater Futurity tells the story of a remarkable collaboration between Civil War soldier Julian Monro and mathematical genius Ada Lovelace. When Julian is faced with the unspeakable horrors of the American Civil War as a soldier in the 34th Ohio Regiment, he makes a plea to Ada, across time and space, for help in creating a machine that will generate peace. Futurity is composed and written by Guggenheim recipient Cesar Alvarez. "Futurity commands you to drop your arms and raise your hands. A celebration of music's transcendent powers. Don't worry about why you're getting uplifted, just surrender". The Village Voice Advisory: This performance contains lighting that may affect some photo-sensitive audience members.
FUTURITY is presented by special arrangement with Uproar Theatrics www.UproarTheatrics.com
For tickets visit: https://www.showtix4u.com/event-details/71805
WHAT'S YOUR MOVE?
Directed by Peter Kyle
The 2nd annual What's Your Move? concert showcases student dancers and choreographers from across campus in their own original work. Dance and movement artists of any tradition create and perform solo and ensemble pieces, celebrating a dynamic range of approaches to the art of dance. The student-focused concert takes place on stage in Austin Arts Center.
April 20-21, 2023, Thu. and Fri. 7:30pm
 Goodwin Theater, Austin Arts Center
Tickets: https://www.showtix4u.com/event-details/73300
ACROSS THE NINEFOLD RIVER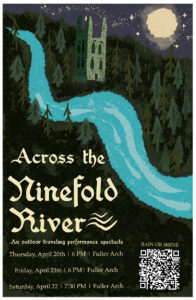 Directed by Visiting Lecturer and Trinity alumnus, Matthew Glassman  
Across the Ninefold River is an original traveling spectacle created by an interdisciplinary student ensemble training in physicalized acting, design, music (instrumental, choral, percussion), writing, object work (stilt-walking, giant objects), and puppetry. The performance, traveling across campus indoors and out in the style of medieval pageantry, is inspired by The Ninefold River–found in Greek Mythology, Aztec cosmology, and other traditions, pertaining to the porous borders between the living and dead, the waking and world of dreams. More pageantry than play, more immersive than passive, and more dream world than rational–our theatrical journey animates Trinity's campus with a heightened, visceral performance aesthetic.
April 20-22, 2023, Thu. and Fri. 6:00 p.m., Sat. 7:30 p.m.
Main Quad and Trinity Chapel
Tickets: https://www.showtix4u.com/event-details/73302
Fall 2022 Events
Offertory: Liturgy|Order|Bridge
presented by the Dept. of Theater and Dance,  directed by Deborah Goffe
Dec. 2-3, Trinity Commons, 240 New Britain Ave., Performance Lab
About Offertory
Our Fall Dance Concert, "Offertory," is an interactive performance work directed by Visiting Associate Professor Deborah Goffe (@scapegoatgarden), and created in collaboration with its two performers, Nancy Becerra-Cordoba '22 and Junny Nguyen '26. Throughout the semester the three have drawn inspiration from Goffe's larger project, "Liturgy|Order|Bridge." What if we could use performance as a ceremony for celebrating togetherness, and for considering the importance of really seeing one another? Join Junny and Nancy as they guide us in experiencing the intimacies (and spectacle) of communal embodiment as rituals of care.
Tickets can be obtained at the following link: https://www.showtix4u.com/event-details/68246
Hamlet – by William Shakespeare
Directed by Terrell Sledge
Assistant Directed by Libby Perler '23
November 10-12 @ 7:30pm in Goodwin Theater
November 12 @ 2pm  in Goodwin Theater
Notes from the Director:
"The object of art is to give life shape."
— Jean Anouilh, French, playwright and/or William Shakespeare
There is still debate about who first coined the phrase. But perhaps the debate itself serves the point. The search for the "truth" and the "right" is perhaps one of the grandest, most human occupations. For young Hamlet, that is definitely the case.
With a father slain, a mother re-married and an uncle accused, Prince Hamlet's life must take on a shape that even their own heart struggles to comprehend. But their hunt for truth and justice is only the beginning of our journey into the mind of a young royal under an unimaginable weight.
Trinity College's Fall Production of Hamlet by William Shakespeare will dive into questions of love, loyalty and the inner workings of the mind, as well as historic assumptions about mental health.
Join us as we explore the incredible narrative of a college-age hero, for whom growing up was anything but simple.
Janis Brenner – Inheritance: A Litany
Friday, October 28, The Performance Lab, Trinity Commons, 7:30 p.m.
Acclaimed multidisciplinary artist Janis Brenner will appear in her award winning, full-length, interdisciplinary dance/voice/theatre one-woman show, Inheritance: A Litany.
AAC COVID-19 Visitor Policy
In concert with the most recent guidance from the CDC, Trinity College, and thus the Austin Arts Center, our 2022-23 policy requires that all faculty, staff, and students be vaccinated.
At this time, all patrons and visitors to Austin Arts Center in person performances and gatherings are encouraged to wear a face mask while inside the venue. All performance venues will be at sat at 100% capacity.