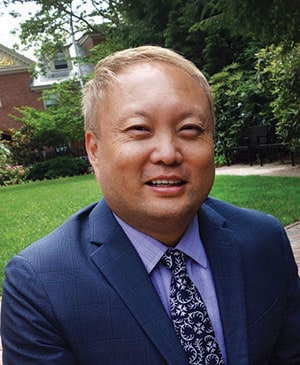 Eric Estes is vice president for campus life at Brown University, where he oversees a division of 18 departments with more than 450 staff members. He also has a faculty appointment in American studies. Prior to Brown, Estes spent 12 years at Oberlin College and Conservatory, serving the last five years as vice president and dean of students. He also was a faculty member in comparative American studies and history and served as an associate dean in the College of Arts and Sciences, an associate dean in Student Life, and the longest-serving director of the Multicultural Resource Center in its more-than-20-year history. Before Oberlin, Estes taught at Duke University. He was a Fulbright scholar to Germany and has received fellowships and grants from the Mellon and Ebert Foundations, the German Historical Institute, and the Deutscher Akademischer Austauschdienst. 
 Estes earned a B.A. with honors in history from Trinity and an M.A. and Ph.D. in history from Syracuse University. He has been a member of the Trinity College Alumni Association Executive Committee since 2014 and now serves as its president. On the board, he serves on the Alumni Relations subcommittee and the Awards for Excellence Committee. 
 Estes resides in Providence, Rhode Island.